50% off on all our Managed VPS Server packages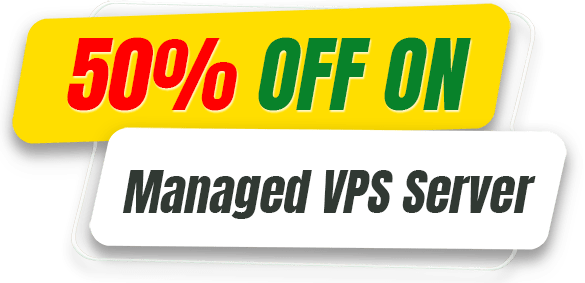 DDoS Protected Managed KVM VPS Hosting with cPanel
Do you need DDoS protection and need more resources than our shared DDoS hosting, but do not have the budget for DDoS Protected dedicated servers? Then, our fully managed VPS hosting is perfect for you. DDoS Protected VPS are perfect for DDoS  mitigation and gives you protection of up to 15 Gbps and are 100% managed Virtual Private Server. You just have to order and sit back and relax. We have a wide range of cheap VPS hosting plans for you. Our virtual server hosting comes with KVM for virtualization and we use Virtualizor as a control panel. Virtualizor is a powerful web-based VPS Control Panel.
The best thing about VPS virtual private server is that you get root access so that you have complete control over your server. Moreover, our Tech team is available to help you round the clock with your VPS Server hosting in case if you face any technical issues. So, you don't need to worry about your VPS hosting managed by our team. Another plus point is that our Managed VPS Server come with cPanel license. cPanel is the best web hosting control panel out there. So, you get the benefit of cheap VPS hosting with cPanel. With such a wide array of benefits, go ahead and buy the best managed VPS hosting today!
Choose Your DDoS Protected VPS Plan
We have a DDoS Protected VPS plan that suits every budget. Our Virtual Server Hosting gives you great flexibility and all our servers are managed by our team, which is available 24/7 to assist you with any Technical issues. Check our Cheap VPS hosting with cPanel plans below:
NOTE: The billing of LiteSpeed License from 1st to 30/31st of every month. LiteSpeed License due date will be 27th of every month as we have to renew the license with our upstream provider after we receive your payment.
Here are the few important points of our DDoS Protected KVM Hosting plans. ZamaHost always provides best services with all the plans. Have a look at the facilities that you receive with the DDoS Protected KVM Hosting plans.
KVM Virtualization Technique

KVM provides genuine hardware virtualization. It will allow actual and equal distribution of resources. Our VPS servers use the KVM virtualization technology and get dedicated resources. There is no provision for overselling of resources with KVM. So, rest assured, resources will not be shared with other VPS Servers.
Do we need to say anything? Most of you know it already. Still, in case you're new to the field and you don't know, don't worry – cPanel is the best hosting control panel out there. It is leading the market since many years. And it is certainly the most favourite control panel of Admins and Tech teams worldwide. Click here to see the demo.
SSD or Solid State Drive has quicker access speed which results in better I/O performance. With SSD, programs run faster and it has less chances of getting crashed. Our server makes use of SSD storage, which will give a boost to the speed at which data is accessed. Therefore, be ready to get much faster performance and high reliability on our shared hosting packages
You are given all the privileges for your server managements with our VPS plans. Just like a dedicated server, you can operate your server and make quick changes at your will. We provide you easy-to-use control panel using which different remote operations can be performed on your VPS server just like a dedicated server.
You'll have your own resources with our VPS plans. Unlike other regular VPS companies, ZamaHost allocates all the promised parameters so that you never find your site(s) screaming for help (powerful servers). Additionally, upgrades(even downgrades) are quick and easy so you can start small and move up as you go forward.
Yes, all the VPS server holders have their private nameservers. You can give those own nameservers to your clients so your nameservers are branded to your company. Additionally, it brings the dynamism as you can change your nameserver IP addresses in case you're moving from one server to another.
Our VPS Hosting comes with anti DDoS protection of up to 50 Gbps. We can handle unlimited number of attacks every month and unlimited duration of attacks per month. DDoS mitigation is our strength and our competitive rates and superb service is our speciality.
We use NGINX as a webserver in our server. NGINX is the world's fastest and most powerful webserver and it is renowned for its low resource usage and gives high performance. It is lighter and much better and faster than Apache. Our VPS Servers have the Nginx Admin plugin and this plugin will increase your server performance and decrease server loads caused by Apache.
Here's a parameter to prove that we aren't just making false claims about server performance and efficient servers. Yes, our servers are given full speed connectivity of 1 Gbps to rapidly process the requests and never ask any of the users to wait for even a second. In short, They do the best from their side.
Its like going to a grocery store and bring the things home. Yeah, no unnecessary time wastages or verifications. We do go for integrity check but the processes are quick. So, the procedures are simple and straightforward – You order the services, make the payment, we verify quickly and setup everything and it's done. You can launch the success trip.
Security is very important in today's web. As we see, online crimes are increasing minute by minute, there's high need to take Security of websites as one of the important factors. And that's what ZamaHost does with all of the offerings including VPS servers. So, don't worry – your host does its best to protect your server and sites.
CentOS, or the Community Enterprise Operating System, is an operating system based on the Linux framework. CentOS is the most recognized name when it comes to dedicated and VPS server operating system. With each of the ZamaHost's VPS server, Cent OS 64 Bit is built in and brings stability, speed and reliability to the servers.
Fully Managed VPS

When you're having a Virtual Private Server with us, you always have someone to guide you. We offer fully managed services so when you're stuck anywhere, we'll help you go through. We provide 24/7 support for any of your queries. Technical queries get guaranteed response within an hour and take maximum 6 hours for resolution.
Even with the low-cost plans, world class service and unmatchable support is always provided at ZamaHost. Guaranteed up time, advanced security measures, full time monitoring, etc. features are provided to all the DDoS Protected Managed KVM VPS Hosting plan holders.