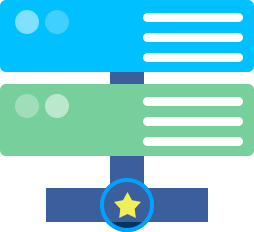 Unbelievable discounts available for you
50% discount on Zama DP1, Zama DP2 and Zama DP3 packages
DDoS Protected Web Hosting Up to 40 Gbps
In today's times, DDoS attack prevention is of utmost importance as more and more sites are prone to DoS and DDoS attack (distributed denial of service attack). Hence, the need of the hour is to find a robust DDoS mitigation and Anti-DDoS solution. And the solution is DDoS protected web hosting. ZamaHost has a DDoS protection server that protects customer websites from DDoS attacks. We offer the best DDoS protected web hosting services to our clients.
Choose Your DDoS Protected Web Hosting Plan
Note* Trial packages for DDoS Protected web hosting are not instantly setup like regular packages as trial orders are approved manually by our verification team for security reasons.
Which One Should I Go For?
Are you confused? Not sure which DDoS Protected Web Hosting plan would suit you the best. You can start with a basic DdoS Protected web hosting plan for now. We offer instant automated upgrade services. When your site reaches the resourse limit, you can upgrade your DDoS Protected web hosting plan in a few clicks.
Account Features of our DDoS Protected Web Hosting
Picking the right DDoS protected web hosting is exceptionally vital. You require a protected and reliable DDoS protected web hosting solution and we provide that by utilizing the most recent server technologies as below:
Account Highlights
Guaranteed Features
Account Highlights
Guaranteed Features
Our organization is focused on conveying high-execution DDoS protected web hosting with a percentage of the most noteworthy uptime guarantees and premium class 24/7 backing. We likewise guarantee the ultimate level of security, 24/7/365 monitoring and quick uplink connections delivered from our information focus to support your online business. It is our endeavor to offer the best DDoS protected web hosting to our customers. Our DDoS protected web hosting plans can be used for HYIP hosting. We have designed our DDoS protected web hosting shared plans after a lot of research and brainstorming. You will get the best value for money when you purchase DDoS protected web hosting. 
How our DDoS Protected Web Hosting protects websites against DoS / DDoS Attacks
Whenever there is an attack on our hosting, our systems are alerted within minutes and DDoS mitigation will kick off. The attacking bots will be filtered and your website will be up and running in no time, unless it surpasses the limits of your hosting package. You can always upgrade your hosting package to a better one or ask for a custom DDoS protected web hosting plan that suits your website. DDoS attacks are mitigated and only authentic traffic reaches your site when you opt for our DDoS protected web hosting.
DDoS Protection
DDoS full form is distributed denial of service and these attacks are a sub-category of DoS denial of service attacks. What happens in a DDoS attack is that a botnet attacks a website with fake traffic and the website goes down.
Day by day, there the attacks are increasing and this can be a menace for websites. So, it is imperative to have a solid DDoS protection system in place. We have the best DDoS protected web hosting solutions that help to prevent and stop these attacks.
To know more about our protection system, Check our
page to make your selection easier.